Backlinks are very important to SEO as it is the most vital factor to rank your webpage on a Google Search Engines on 2021 also.
From others websites you can take backlinks as the votes of confidence. The most easiest way to find your competitor's backlink is that you can find the competitors which is already linked to your website. In this mechanism there will be the great chance to get link back to your website as well.
In this article we will walk through a 5 step process to know your competitors backlink by monitoring the sites.
5 Steps to Find Your Competitor's Backlinks:
Identify your competitors
The first step you have to take is that you need to find the competitors of your website. There are manly two way to get the analysis about your competitors.
Search competitors: You can search competitors by entering the keywords which you are targeting in google.
Traditional competitors: The most similar website which delivers same goods or service with the same general location of your business are your direct business rivals.
Your search competitors might looks different than your traditional competitors.
You can now start to list out your both types of competitors i.e your search competitors and your traditional competitors along with their website. Now we can move on the list in the next part for analysis. In order to analyze the backlinks of your Search competitors then you can either use Backlink Checker or you can use the methods to check domain-level or the page-level.
A domain-level link analysis will look at all backlinks pointing to your competitors entire domain where A page-level analysis will only analysis one specific page on their website. In order to decide which analysis you need to do you can check your competitor's homepage or any other specific page is ranked on the Search Engines or not. If yes then you need to try A domain-level link analysis if not then you can use rest option.
Find websites already linking to your competitors
The best way to find the website already linked to your website is that you can use a link-intersect tool. The working mechanism of a link-intersect tool is it can analyze backlink profiles of multiple competitors to find websites that currently link to your competition, but not to your website. The main idea here you need to know is that if a website is linking to multiple of competitors then probably those sites is linked to your website.
Among many tools which can be used to perform a link intersect there are some of the most popular tools mentioned below:
You can start by entering your website in the top section on "discover link opportunities for this URL."
Now scroll down to the next section where you are allowed to enter your competitors websites one at time.
Once if you finish to add all the competitor websites you want to analyze then click the find opportunities button.
A list will be generated with all the websites which are currently linked to both of your competitors but not to your website.
Then you can choose to export these websites in order to a prospecting list. It will be useful when you are ready to reach out and ask for a link back to your website.
Monitor new backlink opportunities in real-time
One of best ways to search for new backlink opportunities. You can use monitor competitors backlinks in real-time.
Why to monitor backlinks?
With the use of monitor competitors backlinks in real-time you are able to track current link building and digital PR strategies.It hepls you to see what's working for your competition.
You mainly need to target those same websites for backlinks which are staying competitive in the search results.
One of the best tool for monitoring backlink opportunities in real-time is Buzzsumo.
All you need to do for getting started with Buzzsumo sign up for a free Buzzsumo account, login and and head to the monitoring page.
From there you can click the alerts on dropdown residing on top left corner. Then click on backlinks which will be prompted to create a backlink alert.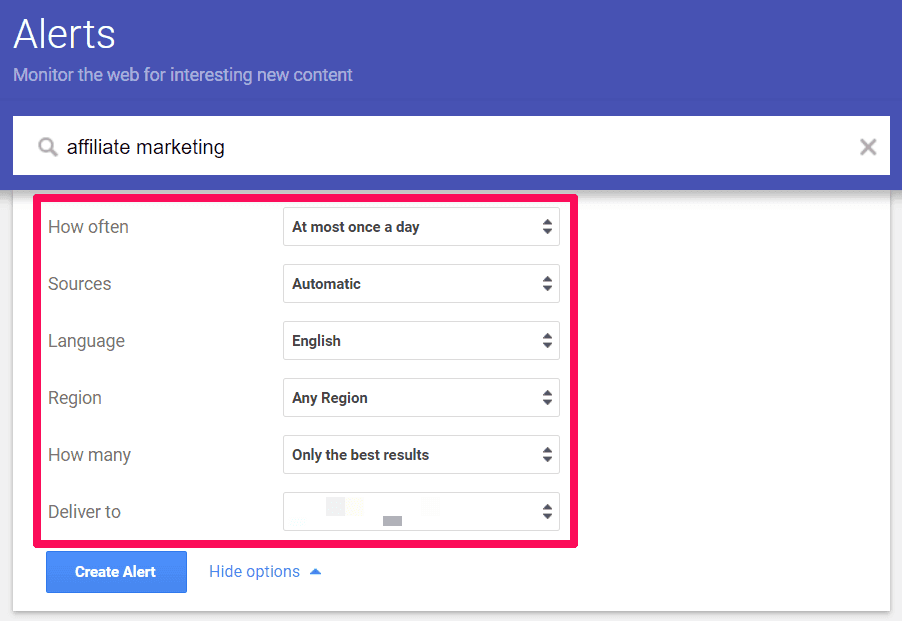 Now fill up the form to create new alert. You will notified by email the second a new backlink shows up for your competitors after creating alert.
Monitor your competitor's brand mentions in real time
Tracking the competitors potentially uncover the backlink opportunities for your website.
The top tools that we recommend to use for tracking competitor brand are
You can set up alert for branded services, company founders, CEOs as well as variations of their business name on top of your competitors' brand name which will allow you to find even more opportunities where the direct company name is not mentioned.
Follow the below mentioned steps to track competitor brand mentions in Google Alerts:
Enter your competitors' brand name surrounded by quotes where it says "Create an alert about." By using quotes you will find brand mentions for the exact spelling of their brand name.
Select the frequency of how often you would like to receive these alerts. I like as-it-happens but the frequency is up to you.
Select your language.
Select the region in which you are located.
Select all results under how many.
Select the email address your alerts should be mailed too.
Click create alert.
Now you will be emailed every time your competitors brand name. We are going to cover how you can leverage these brand mentions for backlink opportunities in the following section.
Turning brand mentions into backlinks
So now that you have a list of competitor brand mentions, how can you go about turning these into backlinks for your website?
Start by creating a working list of all your competitors brand mentions.
Go through each opportunity to see if your brand is mentioned on their website.
If yes, look and see if they are linking back to your website. If they are, celebrate and move on to the next opportunity.
If no, reach out to either the author of the post or the main contact on the website and ask if they would be willing to include a link back to your website with the mention of your brand.
If your brand is not mentioned on their website, take some time to examine the context of how your competitor is mentioned.
If it's a post mentioning or linking to multiple competitors this could be a good opportunity to ask for a link to your website.
If they are linking to a specific page like a competitor's blog post, it might be worth pitching a similar resource you have on that subject.
If you don't have anything similar it might be worth investing the time to create a better and more up-to-date resource that you could then ask them to cover and link back to.
There is not a one size fits all approach to this strategy. My advice is to look for trends in the types of media coverage your competitors' brands are receiving. Brainstorm creative ways to try and replicate their strategies by creating new and exciting content on your own website.
We hope these guidelines help you to know How to know your competitors backlink? 10 Ways you should know. If any queries arise regarding this topic then ICT BYTE recommend you to comment below. Here, we are always active to help you so don't hesitate to share your doubt.
Also Read:
5 Best Link Building Tools for OFF Page SEO
Follow Us on Facebook— Trends Today