As per the 'Contingency Action Plan on School Education 2077' prepared by the Ministry of Education, Science, and Technology, NTC has introduced NTC Pathshala CUG Sim. This Sim is targeted at Community/Public/Government school students as this Sim will provide services at low rates.
What is NTC Pathshala CUG Sim?
In this offer by NTC, the phone numbers of Teachers, Students, and Parents will be kept in a Closed User Group (CUG) for a total of Rs 99 per month. They will get unlimited talk time within the group and can use 5GB data to use Education and Human Resource Development Center website which all courses and textbooks for grades 1 to 10 are available. Also, the Closed User Group will be facilitated with bulk SMS.
"The main motive is to establish a learning link between the community and government school teachers and students in coordination with the Education and Human Resource Development Center."

NTC
How to get NTC Pathshala CUG Sim?
The first thing you need to know about this Sim is it is Free of cost. Yes! free of cost. If the Teachers, Students, and Parents don't have an NTC Sim then they can get free NTC Pathshala CUG SIM. To get it you need to follow the steps below:
Step 1: Teachers, Students, and Parents should fill a form with a copy of citizenship (either own or parents), ID card, and a photo.
Step 2: School will collect the SIM registration form from the students, teachers and parents
Step 3: Then School will include a recommendation from the local government in the form.
Step 4: After getting the recommendation, the School administration will visit the nearby NTC office
Step 5: School get all the SIM cards and the numbers will be registered in CUG group.
Toll Free Facility
NTC will also provide a Toll-free number at an affordable rate if it is feasible in the Schools location.
What if I already have a NTC Sim?
Then there is no need to take the new Sim just fill the form and register your number. You will be added to the CUG group.
How many Sim card will a Parent get?
Can Students register Sim in their own name?
Students can take the SIM card on their parent's name or their own name.
Press Release of NTC Pathshala CUG Sim: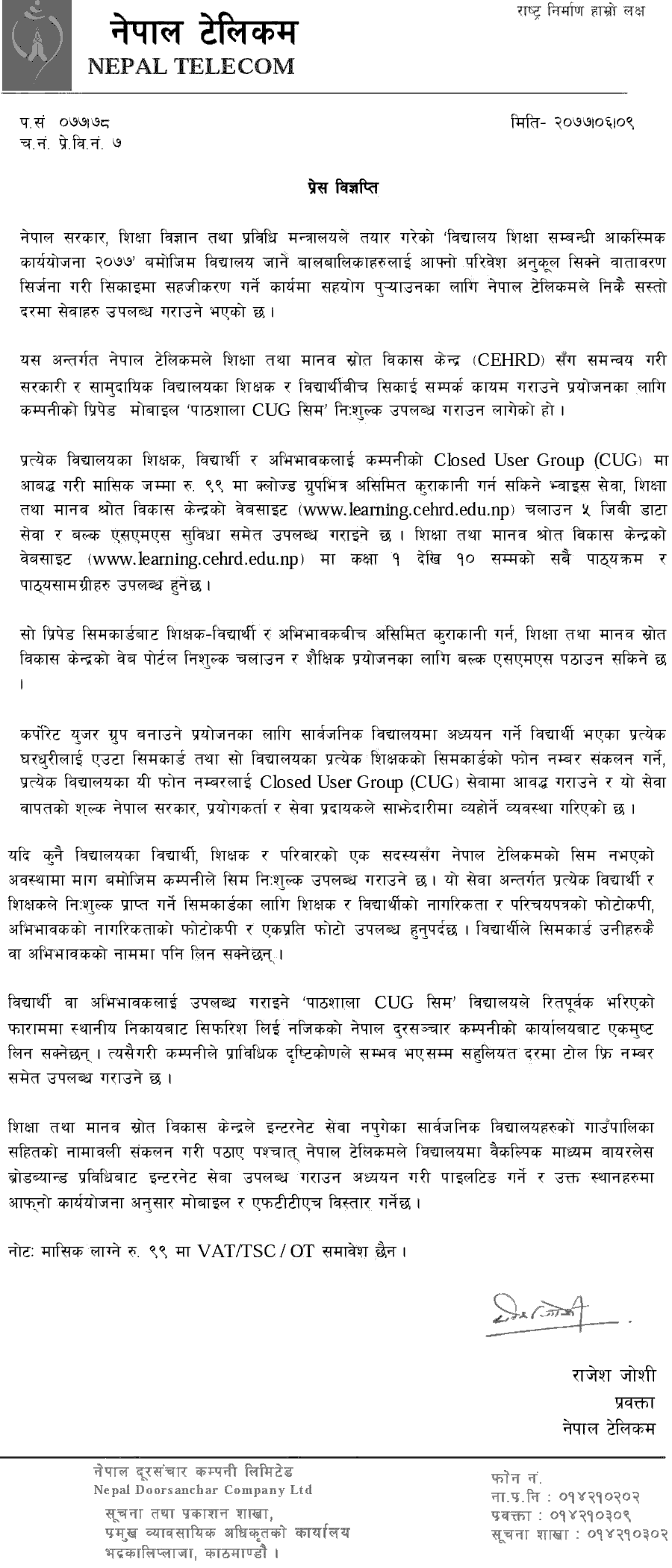 Follow us on Facebook for more latest updates.