Kids these days have adapted to the digital world very quickly. The apps that we learned to use in weeks they learn to use them in just a few days. Introducing new technology to children can be beneficial and help them develop knowledge and skills.
However, this also comes with some flaws. So, today we will talk about some apps to put on kids' mobile phones for parental control and for their safety.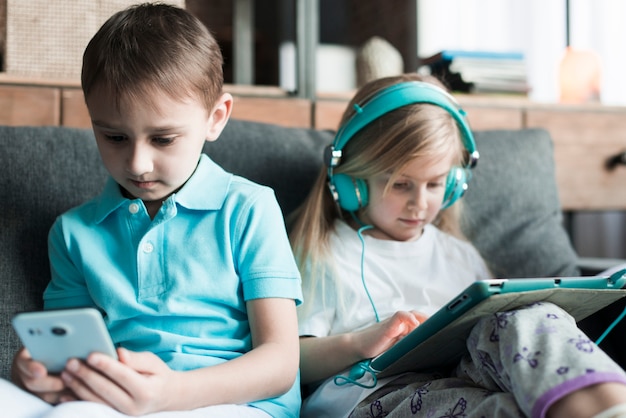 Internet is an open place and has made our lives easier. However, for children, the internet can impact their behaviours as well as mental health. There are somethings on the internet for which children are too young to see and understand.
Likewise, some predators and cyberbullies can really hamper children mentally. Luckily there are some apps and Softwares that parents can install on their child's movie phone to monitor and block unwanted sites or things. Let us look at those apps.
Apps to put on kids' mobile phones
Google Family Link
with the help of Google family link you can create a google account of your children and monitor their activities. The app lets you see how much time they have spend on using their phone ad what are the apps they have used the most. With the help of this app you can also approve and block any app that your child wants to download.
Likewise, if you have a teenager, you can see their location as long as they have their device with them. You can also limit the screen time of your child setting a limited time.
Parental Control – Screen Time & Location Tracker
Parental Control is a free app for IOS and Android which has a 4.1-star rating and 1 million downloads. Moreover, the app has robust web filtering, Location Tracker and Social Media monitoring, Likewise, you can also see youtube videos watched by your children.
You can block some apps that aren't appropriate for your children's age. Similarly, you can approve app downloads by your kids. Furthermore, you can lint the screen time usage of your child with the help of this app.
Qustodio Family – Parental Control & Screen Time
Next on the list is Qustodio Family. This app also has 1 million downloads with 3.2 stars rating. Moreover, this app provides features like daily screen time limits, app monitoring, app blocking, kid tracking, family mode and more. The app also blocks any adultery websites and apps.
With the help of the app, you can put a screen limit on your child's phone which automatically blocks the device onset time. Qustodia also has locator mode and GPS tracker.
ESET Parental Control
The last on our " Apps to put on kids' mobile phones" is ESET Parental Control. This app has 500 thousand downloads and 4.1 stars rating. ESET has features like Web Guard, Child Locator, time-based App Control, Child-centered Interface and Communication, and more.
You can also buy a premium version of the app which has more features and protects your entire family. The app also has an unblocking app feature. If you have blocked your children's favorite gamming app for some reason and if the time limit of the block is over, the kid can send you a request to unblock it. the request will arrive in your inbox, as a notification on my.eset.com, or on your smartphone.
Also check out: How to permanently delete the TikTok account?